While Black Tie is a certainly a formal dress code it is far less regimented than something like White Tie or Morning Dress. This means there are plenty of styles out there to suit you; from Hollywood to the traditionalist. Get any of them right and you are guaranteed to be giving off the impression you want and most fundamentally, you will look very sharp. Before I get into styles though there are some basics that must be addressed.
The Basics
Tie Your Own Bow Tie: This goes without saying. It looks more individual; it is smarter and more than that it gives you the ability to show off some individual flare. Pre-tied bow ties tend to look rather cheap and tacky and, particularly at smarter events, they become somewhat rarer and will stand out for the wrong reason. It also allows you to have that great undone bow tie look as the evening reaches its end. There are some good YouTube tutorials for this so make sure to watch those if you can't tie one already. You will not regret learning.
Wear a Double Cuff Marcella Dress Shirt: Some people think these are unnecessary, however, when someone is wearing a proper dress shirt with the Marcella detailing, you notice a difference. This becomes even more evident when you add studs to it (not 100% essential but recommended for all looks). Also, make sure you cover the bottom of the Marcella front. If you wear a Waistcoat or cummerbund this is easy but otherwise, make sure your trousers cover the bottom of the Marcella front. If you don't you end up looking incredibly scruffy and like your clothes don't fit.
Wear an actual Dinner Jacket: An actual dinner jacket with the silk or satin lapels and black wool material will always look better than a black suit.
Wear Black Shoes: You want to draw attention to your chest and face, not your feet.
The Hollywood
In Hollywood, you often see people wearing a normal neck tie: DO NOT do this, it is incorrect for the dress code and detracts from the silhouette of your jacket. For this look, you probably want to avoid a waistcoat or cummerbund as that will look too formal. The way to nail this is trousers with braces, a turndown collar Marcella shirt with studs and a black dinner jacket of your choice. A slightly less formal notch lapel is acceptable here to try and give that slight air of modernity and nonchalance. A great way to finish this one off is a white pocket handkerchief in the breast pocket. This look is ideal if you want to try something a tad more casual and modern. A good example of this look is Kevin Spacey in House of Cards.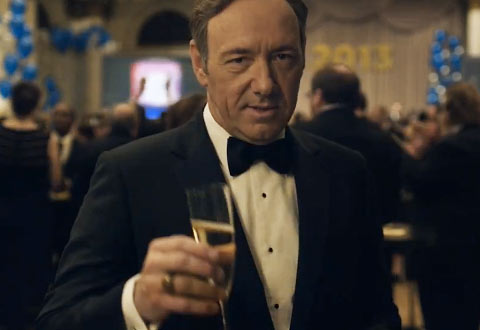 The Colourful
This is still a modern look but is much more colourful. This is for someone who is happy to be bold and is incredibly versatile. You have the option here of introducing a dark velv

et dinner jacket or a midnight blue dinner suit. Avoid lighter colour suits as evening wear should generally be dark in colour. You may also decide to go along with tartan trousers which have become increasingly popular recently as a colourful alternative to the black standard. Also, feel free to experiment a little more with different bow ties and handkerchiefs. There is one major thing to bear in mind with this one: DO NOT go overboard. If you make it too colourful you end up looking like a clown.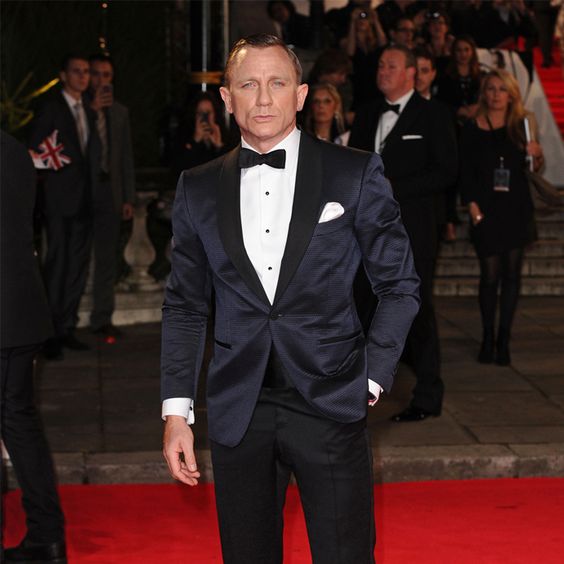 For a shirt, a simple turndown collar is still going to suit this look best. A good example of this is Colin Firth in Kingsman who combines the tartan and velvet jacket. Note that he keeps it simple with the handkerchief and bow tie and the colours are still conservative.
Daniel Craig also does a good job of showing how a midnight blue jacket can just add a little flare without being too much.
The Contemporary Formal

This is probably the safest bet if you're buying your first one and is probably the most versatile. For this, you still want a turndown collar shirt and you want to go for a black dinner suit with peak or shawl lapels, avoid the notch lapel for this look. You are also going to want to wear a cummerbund, waistcoat or double breasted jacket to make sure that you cover your waist. It also goes without saying black bow ties and white handkerchiefs only. While potentially the most regimented style, you can still show individual flare through jacket lapel style and choice and you will look incredibly smart. The royal family are good examples of this look; Prince William here shows off a simple double-breasted jacket and purely black and white colours.
The Traditionalist
This is the most formal of them all and certainly the most effort to do. For this you will want a tunic shirt with a detachable stiff collar, a waistcoat, a single-breasted jacket with peak or shawl lapels and you will only wear black and white colours. This look is a statement and will draw looks, it always stands out when done well. It's slightly old fashioned but by no means unacceptable and will almost guarantee that you are the smartest dressed gentlemen in the room. Just be prepared to pay for your collars to be starched, the fiddly process of putting studs into the stiffer shirt and being less able to relax your look later in the night. While not necessarily the most convenient, it looks fantastic. A great model for this look is Allen Leech's character in Downton Abbey. You can see how the high wing collar elevates the look, the waistcoat defines the chest and the stiffer tunic shirt reduces creasing and so looks very smart indeed.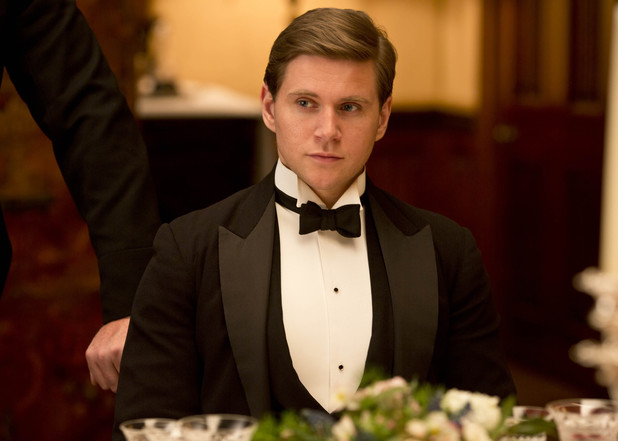 You have plenty of options to go for, you just need to choose the one that suits you best.
Author: Harvey Tomes
Join the conversation below. And like & share this article now.