Sun, sea, and sail away…With the warm summer approaching, we can expect a blissful change from our wardrobe staples, with a little bit of colour and more personality. If you're lucky enough to own a yacht, know someone who does or taking a trip (be it paid) on a high-sea yachting experience, then there is a style perfect for this occasion. It's mingled between casual and somewhat smart but, it's definitely not casual…it is of course yacht casual.
Yacht causal as a style has all of the classic pretentious marks of you'd expect from such an activity that it's associated with – classic polo shirts, pastel coloured shorts that could be fitting for the golf course, and of course boat shoes…we just can't forget that, can we? However, whether you have any intention of spending time on the sea with a yacht you're are pretending to own just for one day… yacht casual is a great look for almost every man, especially when they are in the sun, on holiday or a tropical paradise.
The look is somewhat preppy with undertones of sophistication but, yet it still allows you to take part in physical activities without looking silly. It's great if you want to maintain that gentleman's vibe whilst out exploring in the sun. So, thinking about going out into the sun whether home or away, we suggest that you have this style at hand.
What to you need to perfect yacht casual? There are many options of clothing and a variety of styles that you can go for, to get that yacht casual look…which is why this is such a great style for so many men. This is what you need to know to get yacht casual style right…
The Yacht Casual Shorts
The shorts are perhaps the quintessential feature of the yacht casual attire. Getting this right is key so take note… do away with shorts that are made of thick materials such as denim. You want light materials – after all, you are out in the sunshine. keep away from ridiculous patterns and camo – in the instance of camo you will likely stand out rather than blend in and not for the right reasons too. Also keep away from the cargo shorts, unless you are the skipper of your vessels, in need of the space to keep your compass and maps, those pockets are excessive. Instead, opt for the chino short, they define the style and are have a variety to go for too. If you'ree are unsure what exact colours of chinos shorts you be wearing to perfect the yacht casual look, we suggest the light and pastel colours without any patterns – though remember this isn't' a rule.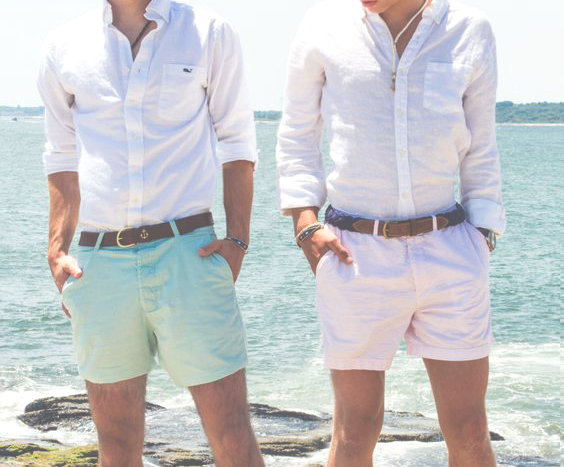 The next option is seersucker – this is a thin all cotton puckered (wrinkled) fabric, commonly stripped and used for spring and summer wear. You can't really go wrong with this along as you keep to the traditional colours and patterns.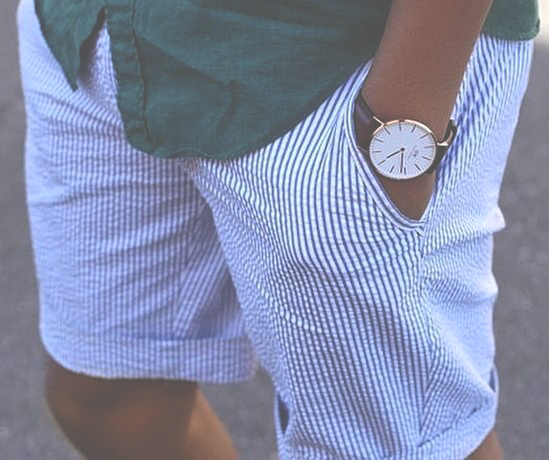 The Yacht Casual Polo
If your having a more active day out then the polo shirt is a great option for achieving the yacht casual style. The colour you choose is dependent on the fabric and colour of the shorts you go for. If you are going for a classic khaki chino, then you could opt for darker coloured polo's – such as navy blue. If you are choosing any other materials such as seersucker or light pastels chino's, then light neutral coloured polo shirts are always the safest choice.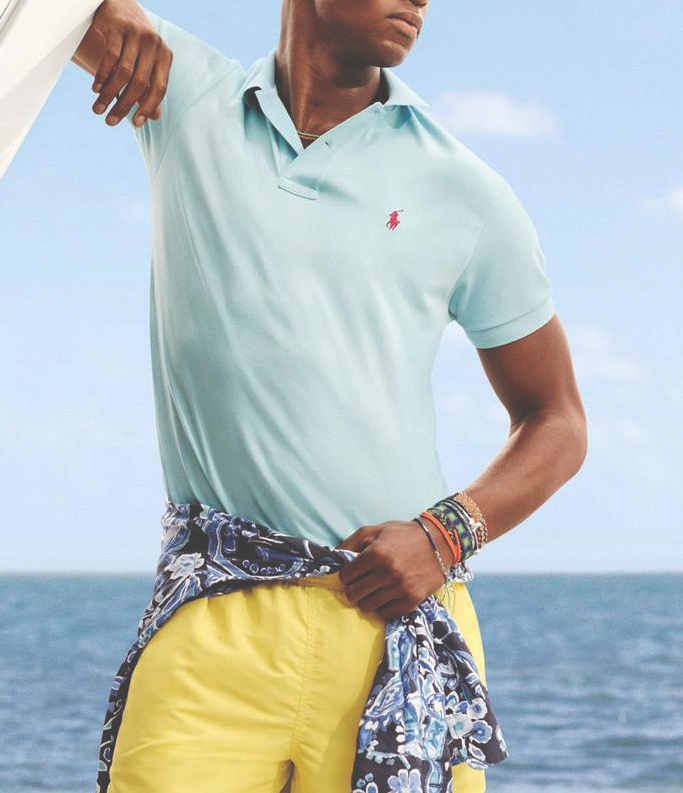 The Yacht Casual Shirt
Not on board with the polo shirt? Then you will probably be drifting toward the button down shirt instead. The button down shirt is actually a much better option is you want to polish up the look a little more. This choice is a little more preppy but, greatly depends on the combination of the colours and patterns that you sport with both shorts and shirt. If you are thinking that it may get a little hot in a shirt…simply undo an extra button and roll up your sleeves – you can take the helm both looking cool and feeling it too.
What coloured shirt should I go for to get yacht casual right? Your best and option that always works is a simple yet effect white button down shirt, they go with perhaps everything. Other great options are checkered button down shirts – especially in blue, and fabrics such as linen are made for this season.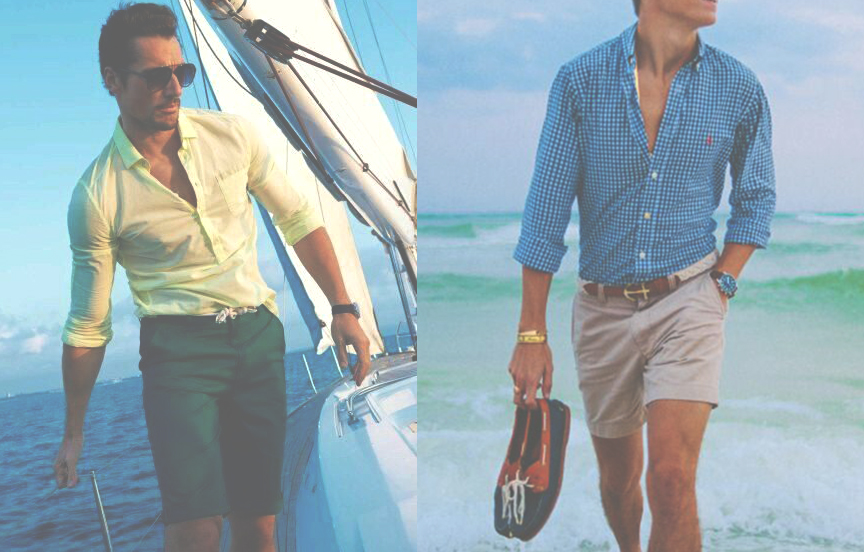 The Yacht Casual Shoes
This one's easy as it's in the name… yes, it's, of course, the boat shoe! Simple classic brown or blue boat shoes are always the best options, they really make this look.
Brown boat shoes are the safest option as they work well with most combinations of shirts, and shorts. Blue will probably work best if you have very neutral light coloured shorts such as white. A final note is that in no circumstance should you walk out on deck wearing socks with boat shoes. If you find it uncomfortable either be sly and use low cut ankle socks that can't be seen with the boat shoe or just put up with it.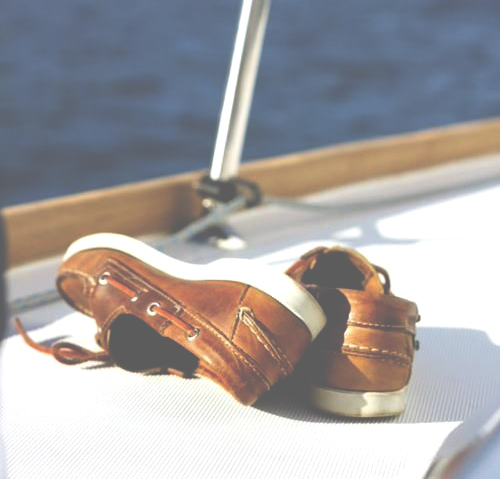 The Yacht Casual Belt
Some of the shorts may not also need a belt if they have a cord around the waist – if this is the case the overall look tends to be slightly more relaxed but, where there are belt loops a belt must be used. Make sure that the belt is not too smart looking, go for a more casual style – a brown leather belt is a lot more relaxed looking than black leather, and you can't really go wrong with a leather woven belt. Other colours work well too especially if it's a woven belt and there's the option of the more casual canvas belt with the double D-ring buckle.

The Yacht Casual Watch
Sporting your best nautical watch is a must. If a Rolex Yachtmaster is slightly out of your price range at this moment, then a nice link watch that's is your price range is always a good start. Similarly, a brown leather strap watch with a classic dial is alway a more elegant touch, or there's always the nautical themed canvas strap watch, a great example is by Daniel Wellington.

Join the conversation below. And like & share this article now.