Do you have the option to opt out of the classic workplace attire… the suit? Some of you may love wearing one to the office – wearing an attire that symbolises man; while others downright just hate putting one on each morning. For some, it may be a standard workplace policy and even somewhat of a necessity depending on the job role. Take a salesperson for instance… a well-dressed man in a well-tailored suit will often inject confidence into the wearer and project legitimacy and reliability towards a buyer. Dress that same man in beachwear and that buyer will probably laugh, struggling to take him seriously and then swiftly reject any advancement, offer, or pitch made towards them. So what you wear at work can be important depending on your role.
Lets say you have a chance to tone down your workplace attire on the odd occasion, or even permanently. Have you made much thought about how you are perceived by the people around you? If you hold a position where you lead others you must show dominance in some respect to hold their attention. Again, does your attire convey this quality?
Mark Zuckerberg and others in creative or tech industries are often in the far extreme, with no hint of 'smart' within their overall outfit, opting for super casual instead. However unlike Zuckerberg where he can hold the attention of millions wearing an old t-shirt, awful jeans and flip-flops, you may want to find the middle ground.
Business casual can look great if done right, but it can often involve more thought than putting on a regular suit, as business casual attire could potentially have more elements involved – such as the combinations of clothing items and their colours.
Why The Trouser Puts The Business Into Business Casual
Let us start with the trouser. There are a few options with trousers for attaining a business casual look. But be careful when choosing trousers in particularly, as they are one item that is key to making you look business-casual or just plain casual in the office. Your trousers need a sense of formality over other items, they can also define the situation you are in, to some extent. Think for a second where you would wear jeans, or (to an extreme) jogging bottoms…they each have a purpose! A t-shirt or plain shirt, however, can be worn for many occasions, and for many styles. For example – a plain shirt can be worn untucked, sleeves rolled up, and a few undone buttons, at the beach; or pressed, with sleeves down, and buttoned-up, for a dinner event.
Here are great examples of trousers to attain that business casual look:

Suit trousers – are perhaps the easiest option to go for if you don't want to put much thought into it. A light grey would go great with many other items.  You could choose a wool fabric for texture, such as wool flannel trouser. And make sure you stand clear of any pinstripes suit pants.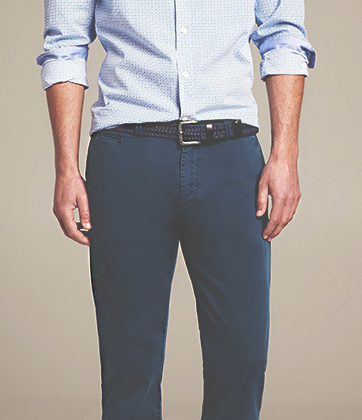 Blue chinos – these can look great for the business-casual look. Many stylish men choose these for the office, it is toned down more than a suit trouser, but still smart when combined with the right items. These are also highly versatile, so gives you many options when picking the rest of your clothing.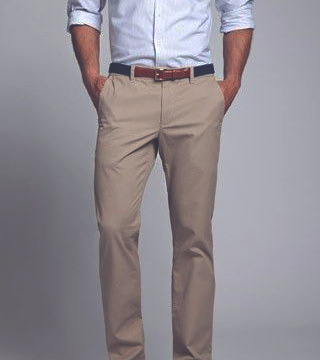 Beige chinos – these will be slightly limited in terms of the combination of clothing items that will give you the business-casual look. But a great look especially in the summer. As they are slightly more casual, going for a formal shirt can bring back the smart element to your overall look. A button-down white or blue shirt would look great with these.
Get The Shirt Right!
This part is crucial for bringing the business casual look together. What to go for: checkered shirts are great, they bring a relaxed element to your outfit. If you are wearing a suit trousers then this is the style to go for as a plain button down shirt would look too formal with this trouser. Alternatively, a polo shirt is a great option, as it's much less formal than a shirt but still maintains some element of 'smart'.
Wool Jumpers To Perfect The Business Casual Look
A wool or cashmere jumper are perfect pieces to finishes off the business casual style you are looking for. They are perhaps the single item of clothing that capture the look immediately and with little effort. You can vary the jumpers depending on the season; opting for thicker wools in the winter, to keep you that little bit warmer, and lighter wools or cashmere jumpers in the warmer months.
Join the conversation below and share this article now.