Vertical stripe shirts has seen a resurgence in menswear in recent years. Stripes, as a style has been around for some time, in some form, such as smart button-up pinstripe shirts and casual nautical horizontal stripe tees.
The biggest change, however, is in men's casualwear, moving from the horizontal stripe to the vertical, often with thicker lines and a greater variation in line thickness. The prime example of this is casual, collared shirts, most notably cuban stripe shirt with its relaxed wide collar has become a major fashion trend over the last couple of years.
Vertical stripes are much more flattering to horizontal too. While horizontal stripes will make a man seem noticeably wider, vertical stripes will have the opposite effect. With the right up-and-down pattern an optical illusion is created, lengthening your torso and making you appear taller.
If you are looking for a new men's vertical stripe shirt for summer, look no further. We have hand picked some of the best vertical stripe shirts for men this season.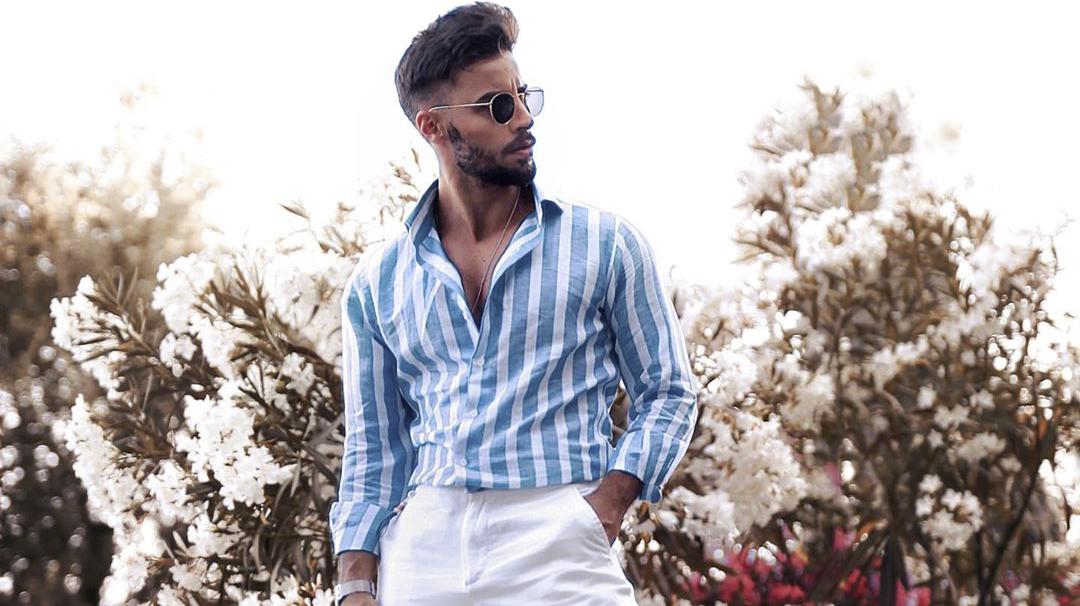 NN07 Striped Miyagi Vacation Shirt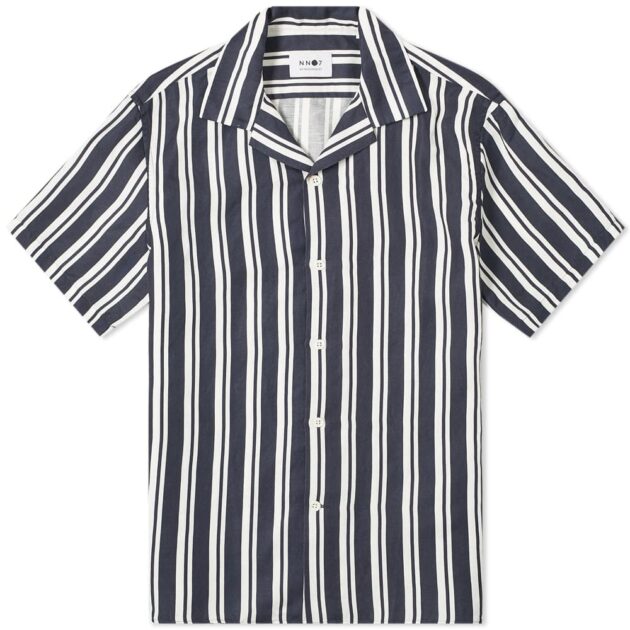 This vertical stripe shirt by NN07 has a timeless, sophisticated style. Made using a comfy and breathable TENCEL™-linen blend that's striped in navy and white for the suave look.
BUY NOW FOR £119
Gucci Striped GG Vacation Shirt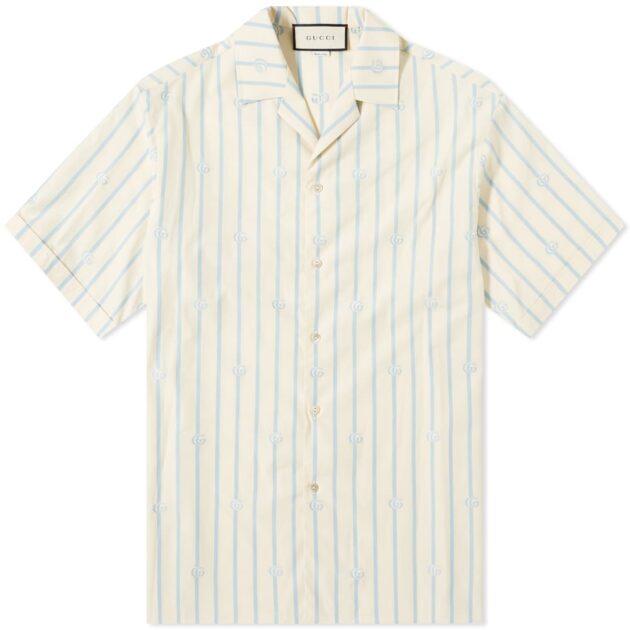 A classic vertical striped shirt style, Alessandro Michele borrows from the '70s once more for this Gucci vacation shirt. Infused with retro attitude, it's styled with contrasting stripes and the iconic 'GG' monogram that is sure to make you stand out at the poolside.
BUY NOW FOR £389
Portugeuse Flannel Bayonne Vacation Shirt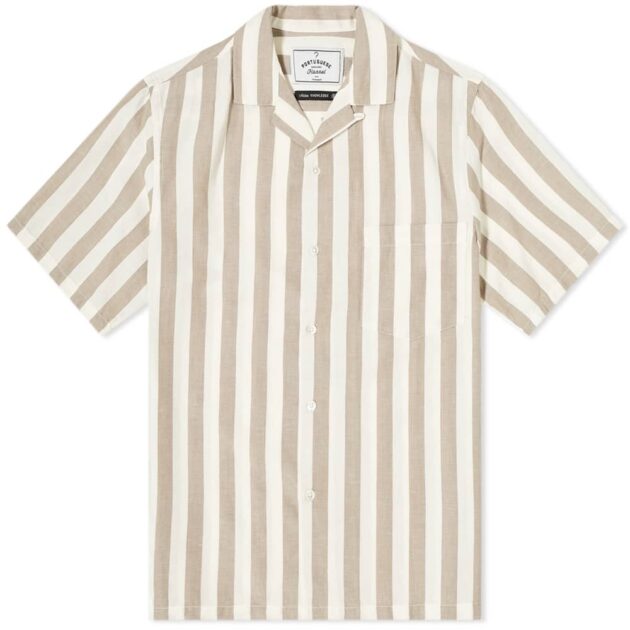 Summer dressing and light, vertical striped shirts go hand in hand, and this Portuguese Flannel style puts a neutral spin on a tried and tested trend. Made using a blend of cotton and linen, it's ready to be teamed with light wash denim. Its short sleeved build is secured with mother of pearl buttons and rounded out with an open camp collar.
BUY NOW FOR £85
Gitman Vintage Camp Collar Awning Stripe Shirt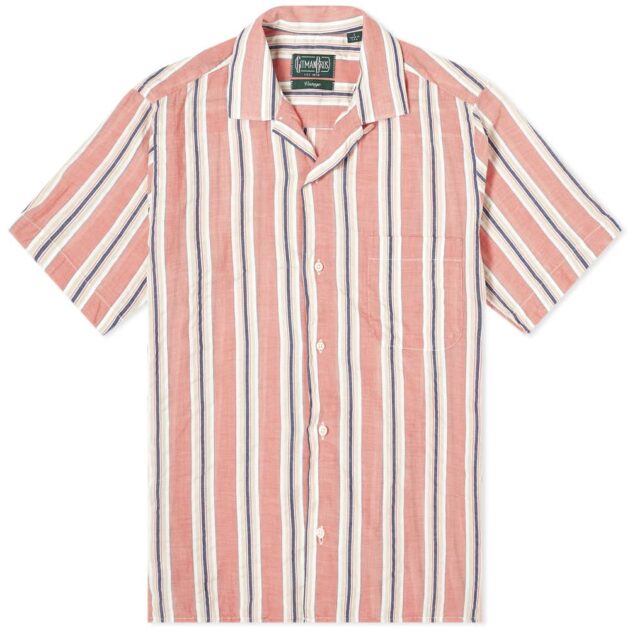 Gitman Vintage remixes archive pieces to create this premium vacation shirt that serves mid-century style in a salmon stripe. The pure cotton piece is crafted with a relaxed fit in the heritage brand's own Pennsylvania factory.
BUY NOW FOR £199
ACNE Studios Simon Sheer Stripe Vacation Shirt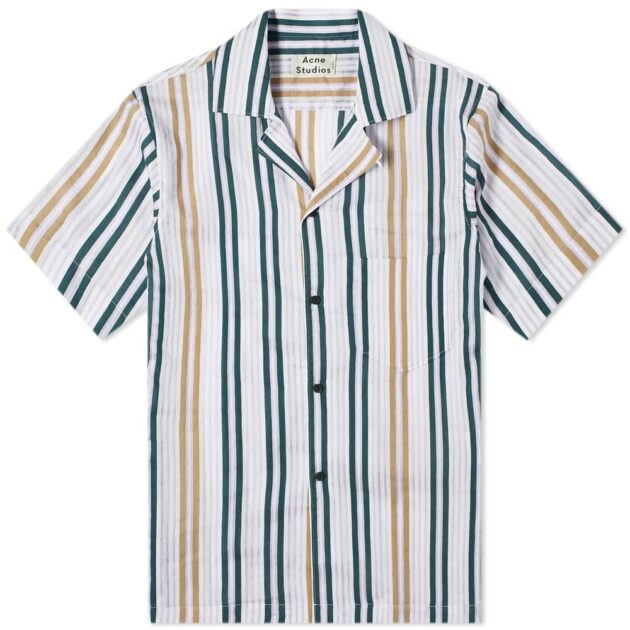 Acne Studios gets playful with pattern for SS20 while remaining faithful to classic silhouettes, like this vacation shirt. Crafted with the style's signature notched Cuban collar and square chest pocket, the sleek cotton-viscose blend is striped in muted shades of lilac, bottle green and beige for an understated jet-setting look.
BUY NOW FOR £239
AMI Short Sleeve Vertical Stripe Shirt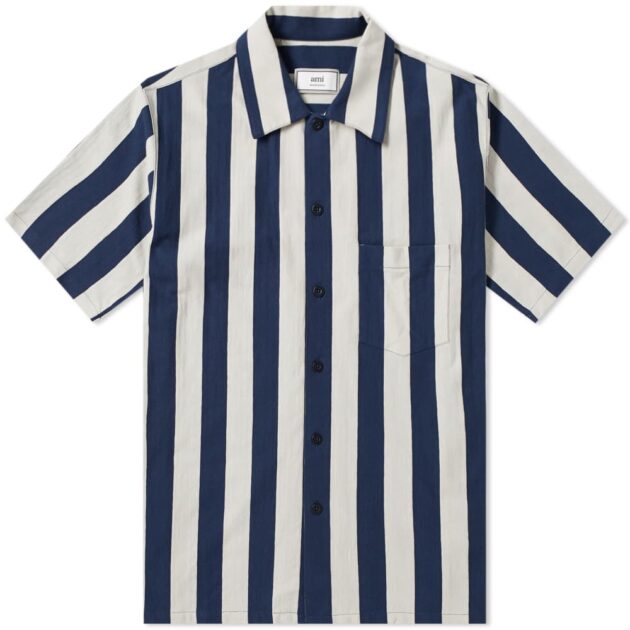 One of our favourite classic vertical stripe shirts for men. Bring a touch of Parisian style to your summer wardrobe with this short sleeve shirt from AMI. Designed with a casual spread collar, button closure and patch pocket to the chest, this striped silhouette is perfect for dressing up or dressing down. Made with love in Portugal, the relaxed piece is finished with a split hem – promising comfort and style.
BUY NOW FOR £169
A Kind of Guise Short Sleeve Banepa Shirt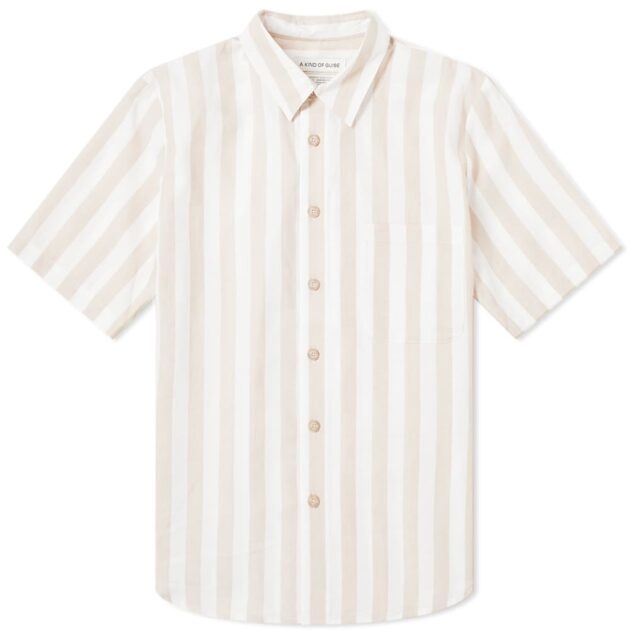 Perfect for strolling around the Kejetia market, this A Kind of Guise short sleeve shirt is a cool and comfortable staple that takes inspiration from Kumasi in Ghana. Constructed from a cotton-linen blend, it's wrapped in subtle beige and white stripes for a fresh and modern finish.
BUY NOW FOR £165
Lanvin Stripe Vacation Shirt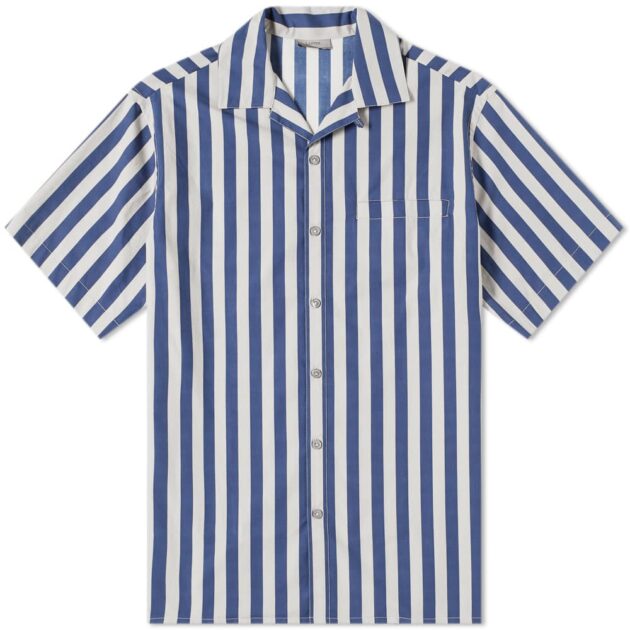 Crafted from lightweight pure cotton, this summery vertical stripe shirt by Lanvin is striped in grey and blue, perfect for beachfront days. It features a classic Cuban-style collar and a sleek welt pocket at the chest – the perfect place to pop your sunglasses.
BUY NOW FOR £225
Vivienne Westwood Short Sleeve Fez Shirt Blue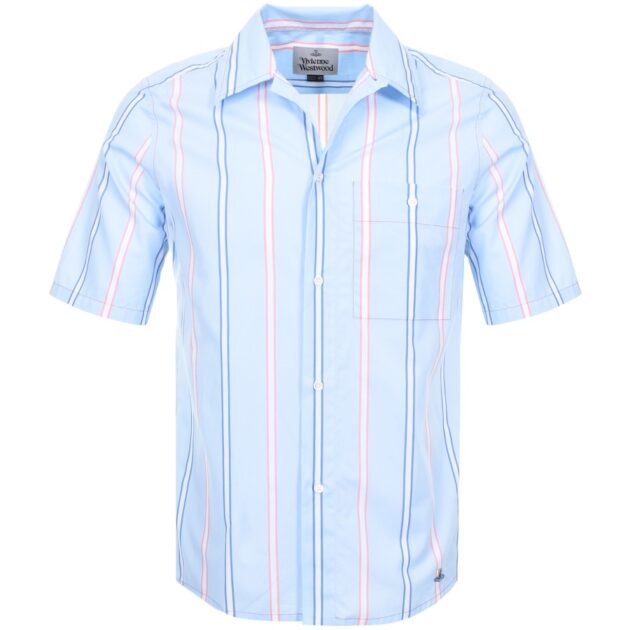 This vertical stripe shirt designed by Vivienne Westwood crafted in contrasting white, pink and blue with full front Vivienne Westwood Man pearlescent button opening, which features a woven loop fastening at the neck and a pointed shirt collar.
BUY NOW FOR £128.21
Casablanca Striped Linen Shirt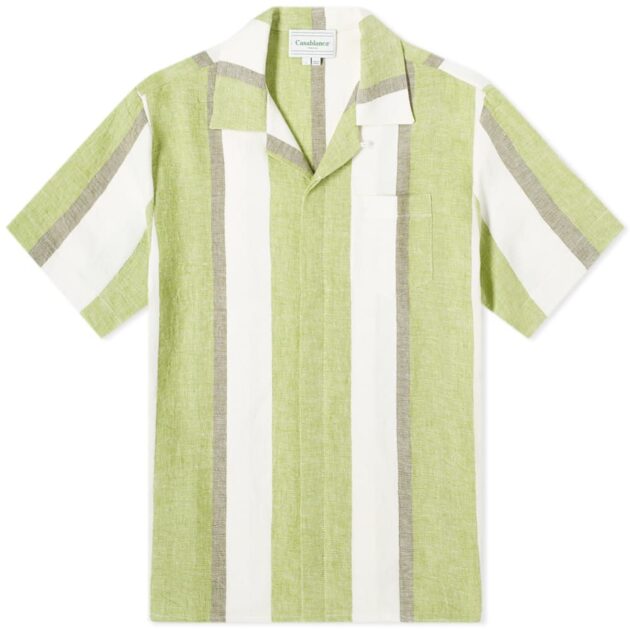 With its casual Cuban collar and summery short sleeves, this SS20 catwalk Casablanca vacation shirt is crying out for sunnier climes. It's expertly crafted from a breathable linen and cotton blend in France while the contrasting stripes align a mix of grass green, khaki and crisp white in the kind of bold palette the brand is becoming known for.
BUY NOW FOR £299