Every man should not go without boots this winter – especially a pair of smart winter boots. Comfort and durability are required in this seasons footwear. Rain, mud, snow, and ice your feet need to stay protected from what the season may bring. Dressing smart, whether that be for work – at the office and for meetings – or for those special events, weekend drinks and fine dining, you need a boot that coordinates perfectly with your outfit.
While you may have often slipped into loafers, oxfords or brogues during the warmer months, a suitable and smart pair of boots can work with your outfit just as well at this time of the years.
Here are the best smart winter boots for men.
Grenson Fred Brogue Boot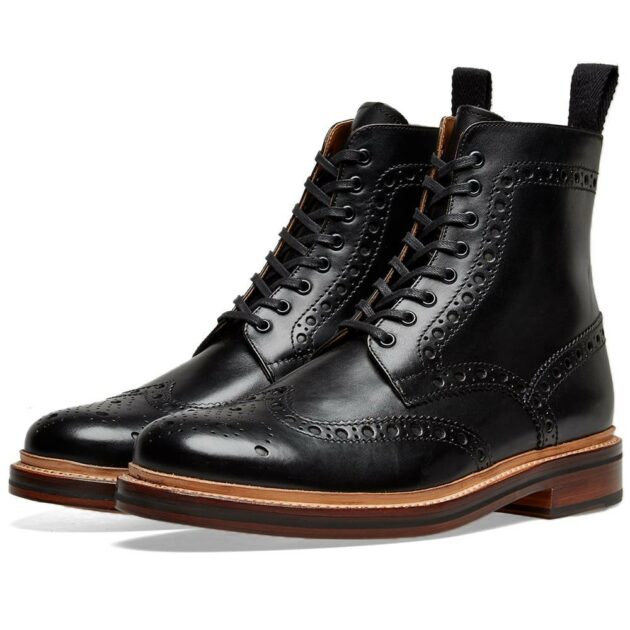 Starting off with these black brogue derby boots by the luxury shoemaker, Grenson – the perfect smart boot to start the winter in. A classic shoe style that will combine with almost any wintertime outfit. Though you can use this shoe style in a dressed down manner with denim, flannel shirts and wool sweaters, these smart winter boots are the perfect winter boot style for a smart, polished ensemble. Reaching for those oxfords or brogues in the winter isn't the most appropriate footwear for this time of the year, even if you are dressing up for a smart occasion. These brogue boots are the perfect alternative.
BUY NOW FOR £259
Grenson Declan Chelsea Boot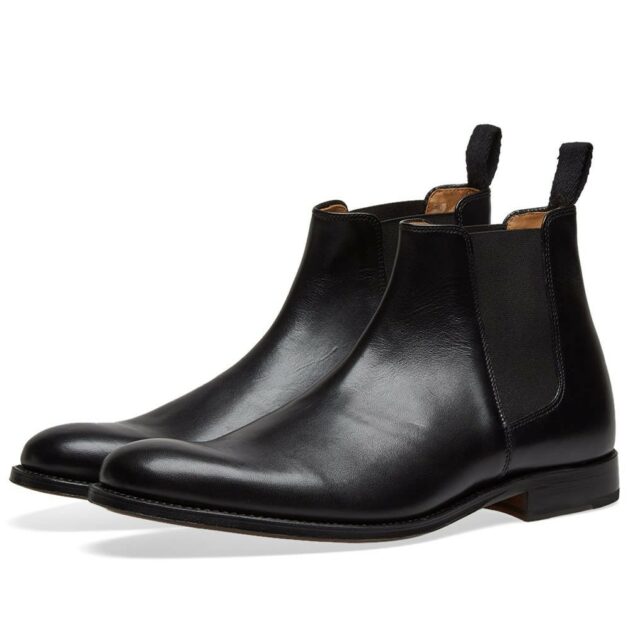 Want a sleek modern alternative? Then this is the smart winter boot style for you! You can be assured that these Chelsea boots by world-renowned shoemaker Grenson will last for many seasons to come. A smart boot style for the modern-day man. Like the brogue boots featured above, these too can be a great alternative to your brogue and oxfords shoes that you would usually pair exceptionally well with a suit and tie. These, however, make for a modern alternative to the brogue boot.
BUY NOW FOR £239
Tricker's Stow Brogue Derby Boot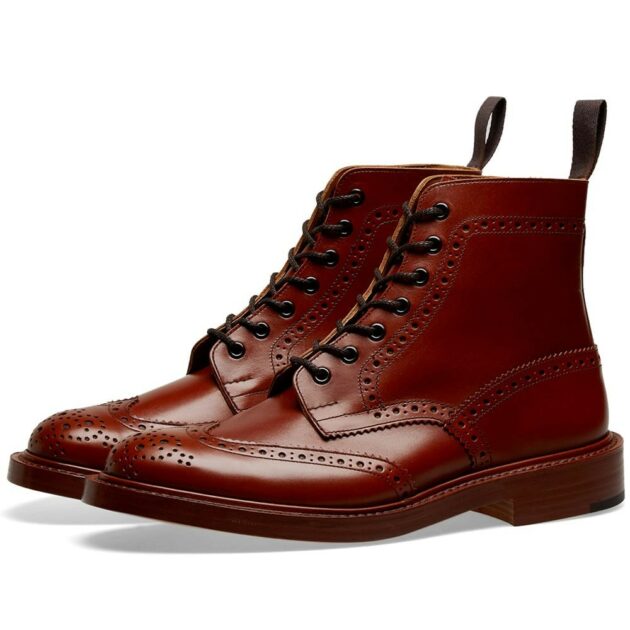 Tricker's been making footwear for close to 200 years. The Northampton-based shoemaker is best known for their country boots and shoes. Known throughout the world for their exceptional quality, even receiving the ultimate seal of approval – a royal warrant in 1989. This rightly established Tricker's as one of Britain's best.
BUY NOW FOR £445
Dune Mathew H Leather Chukka Boots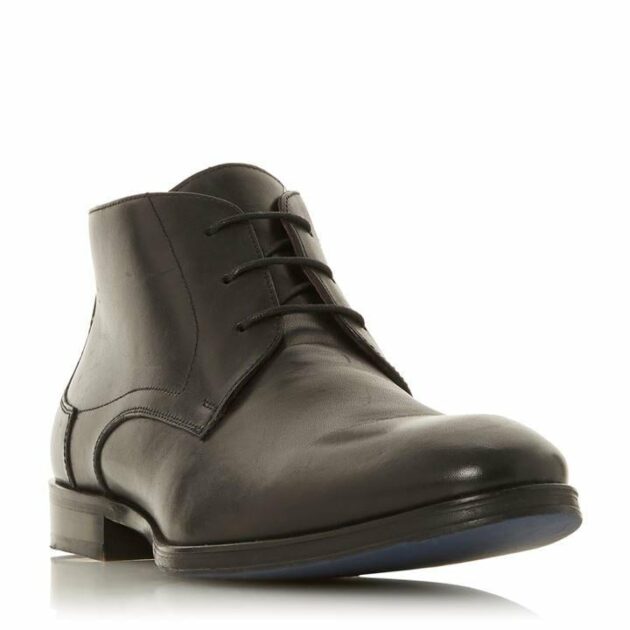 Switch up your winter boot style with these pair of smooth leather chukka boots by Dune London. The low ankle Chukka boot is a simple boot style made up of three main pieces of leather and two or three eyelets. Thought to derive from polo chukka, a seven-minute period of the game. Typically seen as a smart-casual boot style depending on the colour and fabric used. This style by Dune is in keeping with its heritage, a classic polished black leather style that can be worn with denim jeans and a knit sweatshirt or something a little more put-together. It wouldn't look out of place with your office wear attire, for example. A versatile style, indeed.
BUY NOW FOR £51
Common Projects Chelsea Boot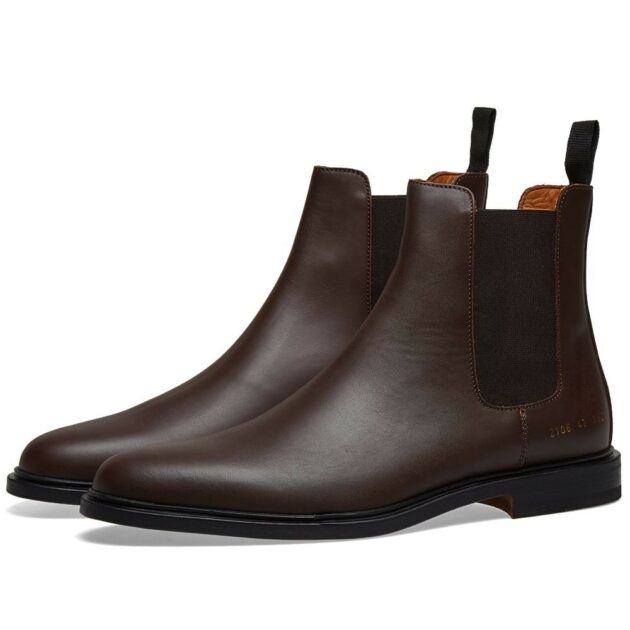 Common Projects has taken the internet by storm over recent years. Known for their sleek and contemporary minimalistic sneaker, Common Projects have continued designing contemporary footwear for the modern man. Staying true to their ethos these smart Chelsea leather boots exemplifies the true nature of the style that Common Projects have become so well known for. Pair these with a fresh pair of black denim jeans, a grey hooded sweater, and a leather biker jacket.
BUY NOW FOR £489
Dune Marila Leather Brogue Boots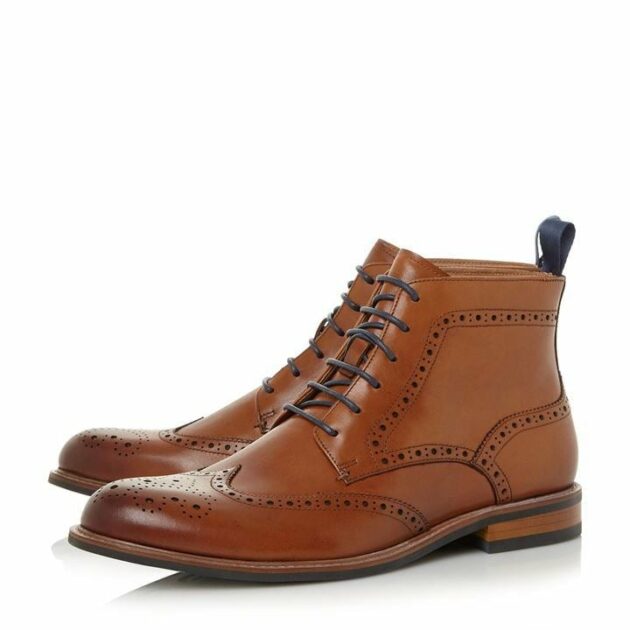 These tan leather brogue boots by Dune London are a great daytime smart-casual boot style that has winter written all over them. For most men, their go-to boot colour tends to be black. Mix up your style this season with something less common. Tan brogue boots can add so much more to your look. A classic combination is tan brogue boots with dark denim jeans, however, they combine perfectly with smart country style outfits. Think tailored wool-flannel trousers and checkered blazer jackets.
BUY NOW FOR £115
Grenson Declan Chelsea Boot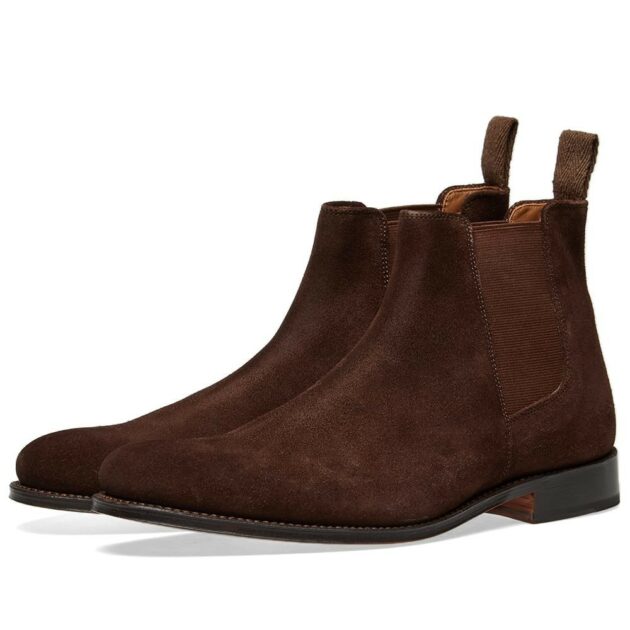 We feature an exquisite pair of Grenson boots one last time. A sleek and modern pair of Chelsea boots, but this time in a soft chocolate suede. Though a great style of boot they have a drawback, however. Wintertime isn't known for mild weather conditions, forecast show the worst mother-nature can bring. Rain, mud and snow, these suede boots won't hold up for long. Once the rain gets to these you will have a hard time keeping them in prime condition for the rest of the season.
If, however, you have a good forecast of the days weather or frankly you just want to risk it to finish off you winter outfit with a modern, elegant boot style that's unmatched, then by all means these are the boot style you should go for. These give a flawless finish to denim and a slim-fit suits.
BUY NOW FOR £239